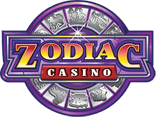 Zodiac Casino Mobile - About Us
We pride ourselves on offering you an exciting, reliable and trustworthy service. Our advanced gaming software brings you the best interactive mobile gaming experiences!
Playing at Zodiac Casino Mobile allows you to take advantage of our fantastic offers and promotions, including Casino Rewards, one of the best gaming loyalty programs online.
Our casino is licensed and regulated by the UK Gambling Commission.
We realize the importance of security for our customers and utilize 128 bit encryption to ensure the highest level of protection when performing transactions online. Our support team are on hand 24/7 should you experience any issues, and you can call from anywhere in the world* (landline only/standard operator rates apply for mobile phones; calls from within the UK are free).
Our games are constantly monitored to identify problems and underage gambling. We can set betting limits for specific gamblers, and encourage you to contact the "Helping Hand" on the IGC website or IGC website or Gamblers Anonymous for assistance and more information.